We are a technical Taiwan
Wire Mesh Stainless
manufacturer, factory, supplier and exporter. Depending on stable investment, superior competence and good after-sale service, we have made us as one of the leading manufacturers and exporters in the industry. We promise quality products and competitive price and on-time delivery for you. We have been establishing long-term business with our customers. If you are interested in any model of our products, please be free to
contact us
.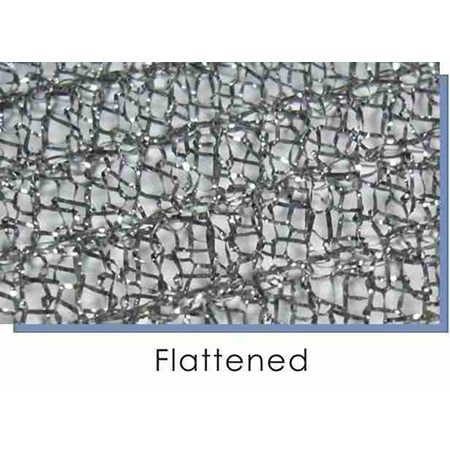 Model: KM2
Wire Mesh Stainless
1.Material: Stainless Steel Flattened Wire
2.Diameter: 0.35 mm ~ 0.08 mm
3.Samples are free
4.High quality and competitive prices
5.prompt delivery time
6.Origin: Taiwan
SWIFT Inc. developed revolutionary fabrication technologies with SWIFT Flattened Stainless Steel Wire Knitted Mesh. The new construction of Mist Eliminator has been approved by users that it could increase the Gas-Liquid Separating Efficiency but decrease the pressure of Gas passing through mesh. Gas-Liquid content a lot of Mist from large size to submicron size droplets. The conventional Mist Eliminator catches droplets mainly with knitted round wire mesh layers by Inertial Impaction mechanism. However, the special crimped layers of SWIFT Flattened Stainless Steel Wire Knitted Mesh could perform better since the three science principles of Inertial Impaction, Direct Interception and Brown Movement mechanisms.
Enquiry Now +
Enquiry Now -
Our expertise has enable us to ensure finest
Wire Mesh Stainless
by subjecting our products to stringent quality control measures during each stage of production and while dispatch. We sincerely welcome all relevant friends all over the world to come for visit and cooperation!